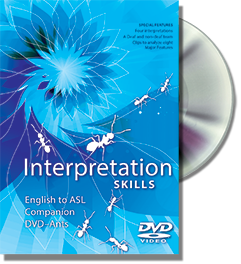 Interpretation Skills: English to ASL , Companion DVD–Ants
by Marty M. Taylor, PhD
ISBN 978-0-9940270-0-9
For use with the book, Interpretation Skills: English
 to American Sign Language, first and second editions
15-minute English lecture
Includes a Deaf and hearing team with their preparation, interpretation, and a debriefing of their work. Also includes 3 additional certified hearing interpreters.
155 short clips of segments from all the interpretations are categorized for easier contrastive discussions of skills applicable to the eight Major Features of the companion book:
Fingerspelling
Numbers

Lexicon

Classifiers
Space

Grammar
Interpreting
Composure & Appearance
The original video material for the DVD was created by Dr. Brenda Nicodemus for her doctoral research, Prosodic Markers and Utterance Boundaries in American Sign Language Interpretation (Gallaudet University Press, 2009).